• Research your destination before you go to maximize your experience. Read guidebooks, know the climate, and understand local culture and customs. 
• Pack smartly and efficiently by bringing comfortable clothes, layers appropriate for the climate, toiletries, medications, etc. 
• Have a physical checkup with your doctor before you leave, including blood tests, eye exams, hearing tests, and x-rays. 
• Be open to new experiences by talking to locals, trying out different restaurants, and exploring popular attractions and hidden gems. 
Vacations are a great way to break up the monotony of everyday life and explore new places. But, with so many options, how can you ensure your travel experience is the best? Here are some helpful tips on how to have an unforgettable travel experience.
Do Your Research
One of the best ways to ensure a great travel experience is by researching before you go. The more familiar you are with the area and what it offers, the better prepared you'll be when you arrive. Plus, if something specific interests you—a particular restaurant or museum—you'll know exactly where it is and how to get there. Here are ways to effectively research a destination:
Read Guidebooks
Guidebooks are great for giving an overview of what a region offers and helping you plan your days. Plus, they often provide useful tips about the local culture and customs. You can purchase guidebooks in print or download versions to your digital device.
Know the Climate
Knowing the climate of your destination is important, especially if you're going to a place with extreme temperatures. This will help you plan what type of clothing and activities to do while you're there. Be sure to check weather forecasts days before traveling to be aware of any sudden changes in climate or stormy weather.
Know the Culture
One of the important things to research is the culture of the place you're visiting. This will help you better understand the people and their customs, so you don't offend anyone accidentally. It will also give you a better appreciation for the destination, allowing you to immerse yourself in its wonders.
Pack Smartly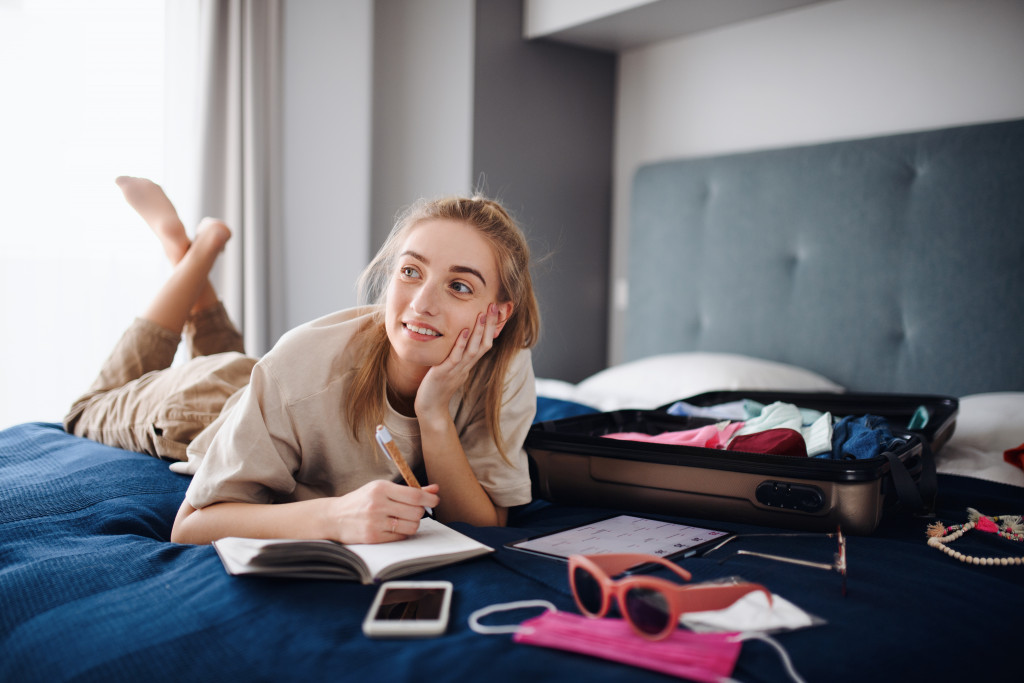 It's easy to overpack for a trip, but packing smartly will help ensure your travel experience runs smoothly. Take time to plan what items you'll need for each day and stick to those essentials. This will save time and energy when looking for things in your suitcase or bag during your travels. Here are tips on how you can pack the necessary items:
Choose comfortable clothes and shoes that you can wear for various activities.
Bring layers in case the temperature changes.
Pack only what fits into your carry-on bag, if possible, to avoid having to check luggage at airports.
Include toiletries and medications you might need during the trip.
Have a Health Check
Before embarking on your travels, make sure to check in with your doctor to make sure that you're physically prepared for the journey. Some of the necessary health checks include the following:
Get a Full Physical Checkup
Especially if you're traveling abroad, getting a full physical checkup before you leave is important. This will help ensure that you're in good health for your travels and can help prevent any unexpected illnesses or injuries. Your doctor can order the following tests to ensure everything is working:
Blood tests
Eye exams
Hearing tests
X-rays
These tests will help your doctor ensure you're healthy and fit to travel. If something is wrong, your doctor can provide you with the necessary medication or treatment before leaving.
Visit Your Dentist
Before leaving, visit your dentist for a routine cleaning and checkup. This will help ensure that any dental issues are addressed before you travel, reducing the chances of an emergency. It is also a must to get a replacement tooth before leaving to maintain the natural aesthetics of your teeth. This will also help you enjoy your meal and other activities without pain or discomfort. Have the procedure done a few weeks before your trip to give it time to heal properly.
Take the Necessary Vaccines
If you're traveling to a place where certain diseases are common, it's important to get any recommended vaccinations before leaving. This will prevent illnesses while traveling and keep you safe from potential harm. Your doctor can advise you on what vaccines are necessary for your destination.

Be Open to New Experiences
The best way to maximize your travel experience is by being open-minded enough to try new things abroad. Here a quick tips on what you can do to maximize your experiences:
Talk to locals and learn about their culture.
Try out different food spots.
Explore the area like a tourist but also like a local.
Visit popular attractions, but look for hidden gems as well.
Be adventurous and try new activities you wouldn't normally do at home.
Taking on a new culture and exploring the unknown can be an incredible experience that will help you create lasting memories. It's important to always stay safe, but don't forget to take risks and enjoy every minute of your travels. Doing these things can maximize your travel experiences and make them truly unforgettable.