Are you passionate about food and cooking? Have you ever looked at an impressive dish and thought, "I wish I could make something like that"? If so, you have the potential to become an excellent cook! Cooking is part technique and part art form. This is a hobby that anyone can pick up and enjoy. Some cooks even find this activity therapeutic.
Many people love experimenting with new ingredients, recipes, and cooking methods. The more you practice, the more confident and creative you'll become in the kitchen. Here are some tips to help you on your journey to becoming a better cook.
Read Recipes Carefully
One of the most important things when cooking is to read recipes carefully. When you don't follow directions correctly, the result may not be what you expected. By reading the recipe beforehand, you will have an idea of what kind of ingredients and equipment you need – this way, you won't find yourself with a pot of boiling noodles and no sauce!
Reading through recipes also informs expectations on timing; if a recipe says it takes 30 minutes to prepare, then it's best to plan accordingly so that dinner doesn't arrive too late! Taking these small steps while cooking is essential for producing delicious results.
Start with Simple Recipes
If this is your first time tackling a recipe, don't be afraid to start simple! It'll give you an opportunity to learn essential cooking skills like measuring ingredients and following instructions, plus how to use those basic kitchen tools like a pot or pan.
With the basics mastered, simple recipes allow for creative personalization over time – adding in your favorite herb here or substituting one vegetable for another there. Simple recipes are also much more forgiving than complicated ones – which makes it easier when learning! Start small and work your way up – soon enough, you'll be an aspiring chef!
Invest in Your Kitchen
Investing in your kitchen is one of the best ways to become a better cook. Having the right tools and kitchen appliances can make all the difference in creating simple, delicious meals. If you have a good set of knives, for example, you can prep ingredients faster and more precisely.
A quality cutting board with grooves makes chopping safer and keeps countertops clean. An Instant Pot or multi-cooker speeds up cooking times for main dishes and sides, while an air fryer or deep fryer lets you fry food as expert chefs do.
It's also essential to invest in good kitchen mats. After all, you don't want to be slipping and sliding around the kitchen when you're trying to create a masterpiece! Kitchen mats not only provide cushioning for your feet, but they also help prevent slips, making it safer in the kitchen.
Experiment with Flavors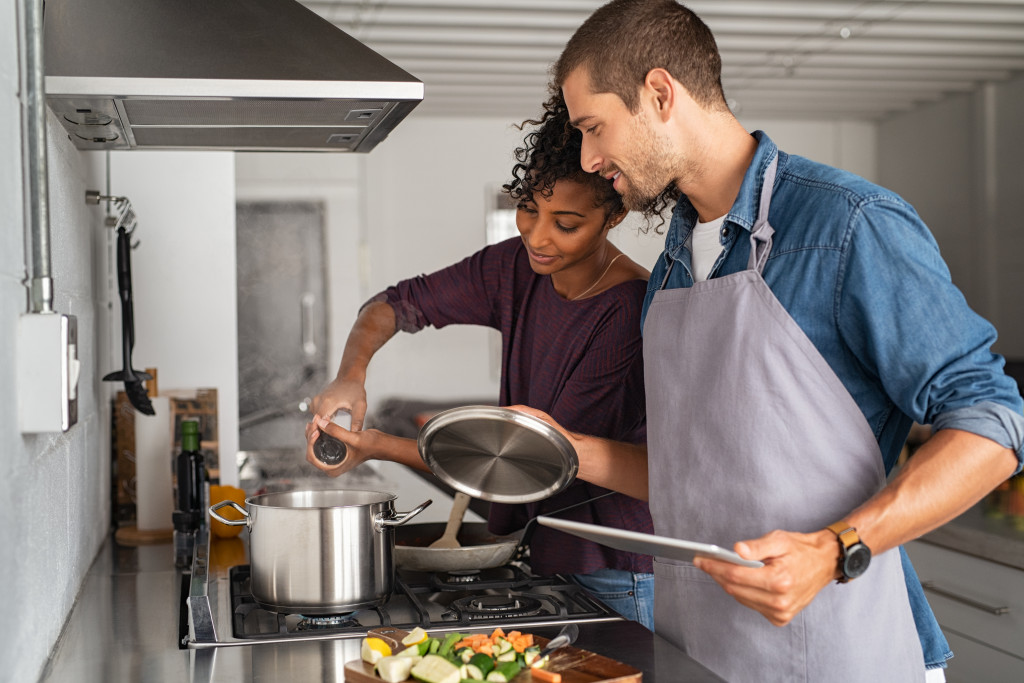 Cooking is all about experimenting with flavors – so don't be afraid to try something new! TWhether you're looking for bold and spicy, or sweet and savory, there are so many flavors to explore. Try adding fresh herbs like basil or cilantro to your food for an added flavor kick. If you enjoy Asian cuisine, add ginger and soy sauce for exotic depth.
Experimenting with different flavors is a great way to learn which ingredients go together well and make your recipes stand out with unique flavor combinations that bring life to any meal.
Practice Makes Perfect
No one becomes an expert overnight – take some time every week or month to practice your skills in the kitchen! As you continue to practice and get comfortable cooking, learn new dishes, experiment with spices and flavors, and don't be afraid to make mistakes!
The more you try out different recipes, the more knowledgeable you'll become when it comes to knowing what goes best together and how to cook particular dishes masterfully. From stovetop meals to desserts, if you continue to strive for perfection when cooking, you'll eventually achieve it!
Have Fun!
Above all else, have fun while cooking! Enjoy yourself in the kitchen and take pride in what you create – even if things don't turn out quite right, just remember that practice makes perfect! With enough practice and dedication, soon enough, you'll be able to whip up delicious meals like a pro chef in no time!
The Bottom Line
Cooking can be both enjoyable and rewarding when done correctly – but it takes practice and dedication from start to finish. Follow these tips for how to become a better cook, and soon enough, you'll find yourself whipping up delicious meals like a pro chef in no time at all! So don't be afraid – get out there and start experimenting with different flavors today – who knows where your culinary journey may take you? Good luck on your journey toward becoming an amazing cook!